Alright guys- I leave tonight!! I've been in New York for the last precious days of my pre-departure phase, and I fly out tonight at 7pm. So, here's a quick report of my adventures in NYC, and a few thoughts before I go.
As you may have heard, a hurricane named Irene had everyone on the eastern seaboard all a-flutter this past weekend. Batten down the hatches! She's gonna be epic! Yeah, right. I left Boston on a midnight bus Friday for NYC, in an effort to beat the storm and get to Steph's apartment in the Bronx before mass transit was set to shut down on Saturday afternoon. Let's take a minute to note that this is the first time IN HISTORY that New York City has evacuated people from their homes. Everyone was ready for a disaster. Steph and I made sure we were prepared by walking to Dunkin' Donuts, and getting some bottled water: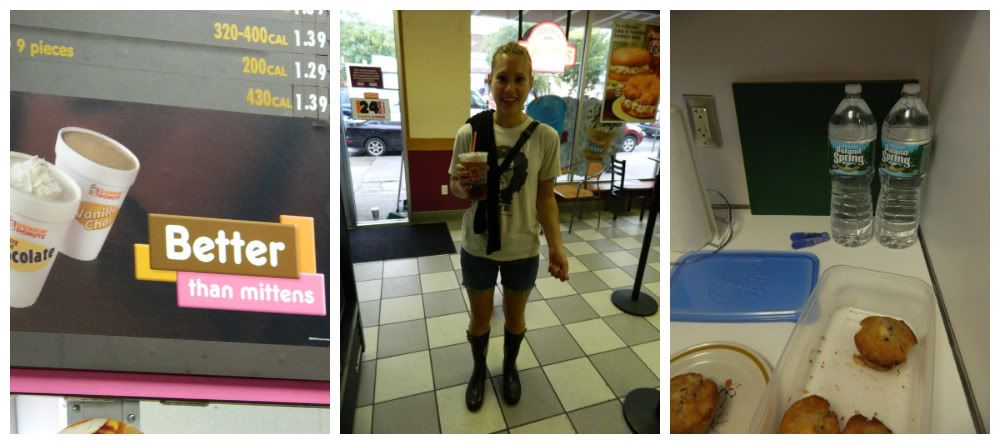 We watched some movies, and fell asleep expecting to wake up on Sunday morning in the midst of Irene's wrath. How silly. We woke up and it was kind of raining. We waited for something to happen, and then gave up and walked to the fanciest restaurant we could find:
Now, I've heard that there were some less-fortunate areas of the country which sustained real damage, and I do not mean to make light of their suffering. However, my experience is that Irene was a let-down. If I'm gonna be stranded in the Bronx, I want to at least be awed by the power of gale-force winds. Nothing of the sort took place.
So, we moved on. Monday night brought all sorts of post-hurricane festivities. Steph and I traveled into the city (since the subway was finally operational again) for sangria at Jon's apartment. Jon and I are connected on many levels, not the least of which is our love of nanny-ing. And drinking. And other things.
Jon's homemade sangria really got the party started. There was an Adele sing-along. We watched Beyonce's baby-bump reveal on the VMA's (she looked so freakin' happy, I wanted to smack her). Then we went out for BBQ at
Blue Smoke
. If you are ever in New York and are interested in some delicious food, check it out. Jon lied to the waitress and said it was my birthday- vintage. In any case, it was a wonderful send off with a group of people I will miss very much. At some point, the friends that Steph made in college became my friends too, and the memories we share are precious to me. Thank you guys for being so incredible, another branch in my extended family-tree.
So, this is it, friends and lovers. I'm on my way into the unknown. Well, I have a few hours before I leave for the airport, but the next time you hear from me I will be a resident of Tel-Aviv, Israel. I've never been good at goodbyes. My friend Mary (who is always wise) put it well- "you feel things very deeply." It's true. So, I know that once I get to Israel I'll feel all of the excitement and joy that comes with realizing a long-held dream. But today is a day that I feel sad. I'm going to miss all of my friends so profoundly. I can already feel the dull, constant ache that comes from being SO far from my mom and dad. Its scary, walking through a door and not quite knowing what I'll find on the other side. But, if I don't do this I will regret it forever. So, many thanks to each of you who has supported and encouraged me. The interwebs will keep us close until we can be reunited on the other side of this strange journey I've begun. Wish my luck. And keep reading my blog.