So as I try to form the structure of this update in my head I'm realizing that I have waited far too long between posts, I have so much to tell you guys about! Libbie and Tzachi's wedding, trips to the beach, an overnight in Jerusalem...there's so much to get through, so let's begin.

I think it is apropos to start with the Sagiv wedding. As many of you may know, my MA program doesn't begin until after the Jewish high holidays at the end of October, but I decided to move to Israel in September so that I could attend the wedding of a good friend, Libbie (Snyder) Sagiv. What a beautiful bride she was! Quite a vision:
If you don't know Libbie, I really must explain why I moved to Israel eight weeks early so I could be at her wedding. Will you allow me a short sidebar?
Libbie and I met when I moved into a cubicle adjacent to hers when I began working at The David Project, my first job after college. I think that a Christian girl who loved Israel was something of an anomaly in her world, so she and I had many wonderful, meaningful conversations about Judaism, Christianity, Israel, snacks, our bosses, boys...you know, the usual. I was grateful to find someone at my new job who could show me the ropes around the office, and little did I know I had found a kindred spirit. Our hearts recognized something familiar within one another, and our friendship grew strong, quickly. I could write an entire book about the silly and special moments that Libbie and I shared during that year and half, but I digress... Eventually Libbie decided to follow her Jewess heart to Israel, to make aliyah and become an Israeli. The only way my goyish heart survived was by resting in the knowledge that someday I would join her there, if not forever at least for a season of our lives. And that season has finally begun! Getting to Israel was a difficult process (my friend Ari told me the other day that Israel likes to test you to make sure you're really dedicated, to make sure that you can hack it) but Libbie never let me give up. She understood (in a way that many cannot) that Israel is a dream not easily forgotten, a thirst that will only be slaked by experience- and I owe much of what I have now to her unwavering, ardent encouragement. Thank you, Libbie. I love you, I'm so happy you are in my life.
So, Libbie moved to Israel, fell in love with a wonderful man who loves her the way she deserves to be loved, and they became husband and wife on Sunday. It was a beautiful celebration, I have never seen Libbie smile so brightly, and the joy was palpable. The community of friends and family gathered included people from all over the globe, even old friends and co-workers of ours from The David Project!
(Cue: "Reunited and it feels so goooood...")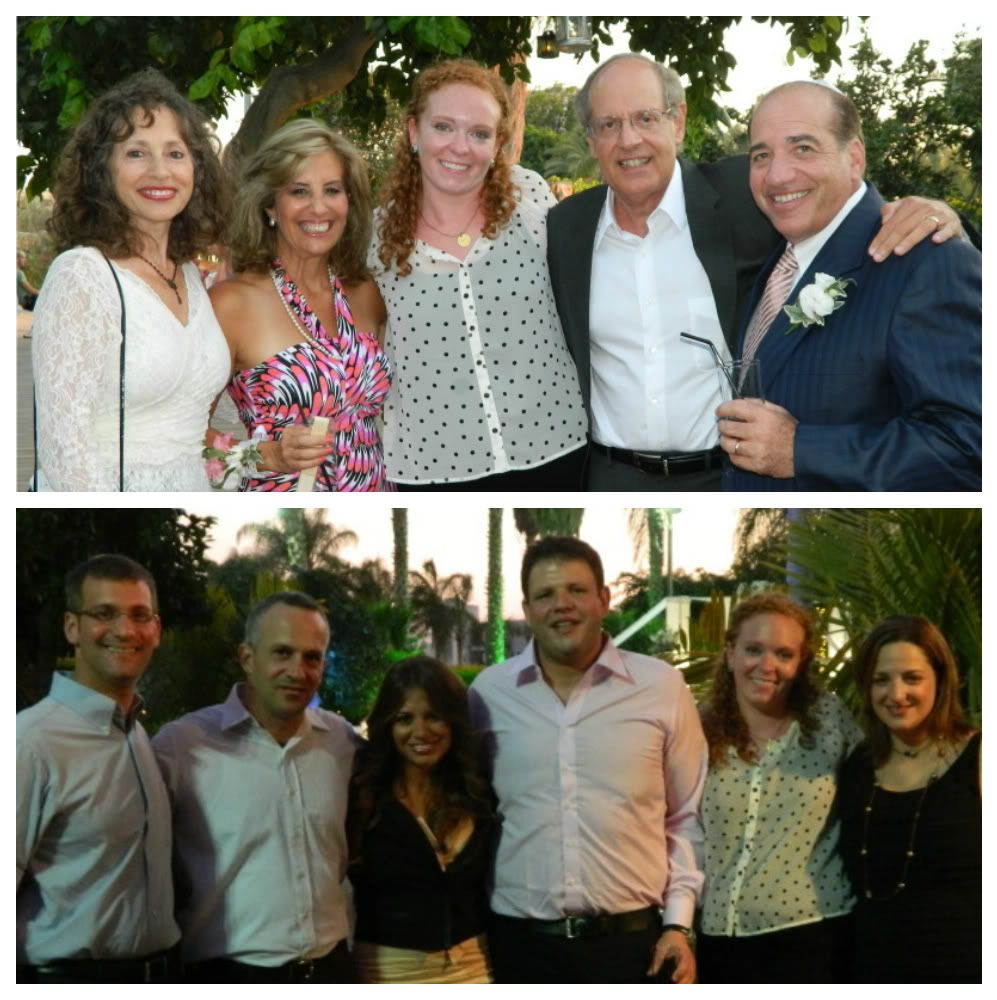 The wedding ceremony was magical, the venue was incredible, the food beyond description, and we all danced and made merry long into the night. Mazal tov to Libbie and Tzachi! May your life together be blessed with happiness beyond your wildest dreams.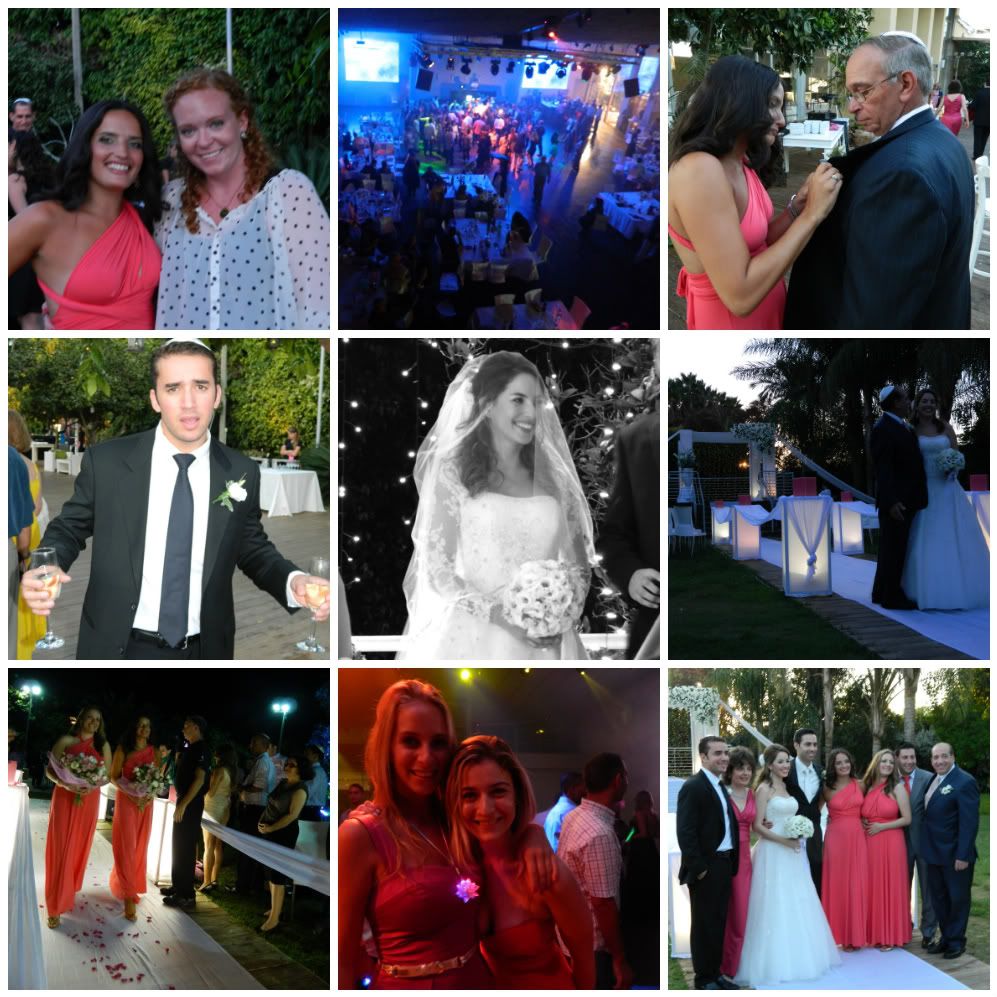 Monday after the wedding (I woke up with a raging headache) I decided to go on an overnight trip to Jerusalem with Libbie's sister, Anna, and two of their good friends, Jackie and Tami (make new friends, but keep the old, one is silver and the other gold...) Anyway, we took the 45 minute sherut (pronounced shay-root, it's like a group taxi), which only cost about $8 by the way, from Tel Aviv to Jerusalem (along the way Anna taught me Hebrew numbers!). When we arrived we were all starving, so we decided to go to the shuk (market) to sample the fresh breads and pastries, fruits, vegetables, and other tasty treats. After a fantastic feast, we walked to the Old City and made our way through the Armenian Quarter to the Kotel (The Western Wall, or Wailing Wall for those of you not familiar with it). This was, I think, one of my favorite moments in Israel so far. The first (and only other) time I was in Israel I was with a group of students from Gordon in 2005, and we stayed in Jerusalem. As the girls and I made our way to the Kotel on Monday night I actually recognized where we were going. I could've made my way there on my own from memory. At a moment in my life where absolutely everything I'm experiencing is foreign and new, to feel something familiar was incredible. To have it be in Jerusalem was just mind-blowing. I can't believe this is actually my life.
After the Kotel, I made my way to Ze'ev's apartment in the new city, and we enjoyed a lovely evening visiting with Charles (our old boss from The David Project) and his wife and daughter. Charles and Jeanie were in Israel to bring their daughter here for her year of study in a yeshiva (Jewish seminary); their visit happened to coincide with Libbie's wedding, and I was happy to be able to spend an evening with family. Charles even let me use his MagicJack to call my parents! In the morning I met another DP friend, Ari Applbaum, for coffee and breakfast, and then met up with the girls again for more sightseeing. Ari helped me find which bus to take, and told the bus driver in Hebrew where I needed to go. It was embarrassing, but I have to say I'd rather be embarrassed than lost. An older gentleman on the bus let me know when we arrived to my stop, so I got off and still managed to get lost, and without a phone. This is is an important lesson that I'm learning- when my instinct is to withdraw and get scared, all I have to do is ask someone for help. I asked a random person on the street to use his phone
and he handed it over without even blinking. I called Anna, and he walked with me until I found my friends

. It really is amazing to me how helpful Israelis are if I'm able to just get over my fear and ask.
Since returning from Jerusalem things have slowed down a bit. I spent yesterday on the beach with Libbie and her (our) friends. I've been to the beach in Tel Aviv twice since arriving here, and I don't think I'll ever get over the awe of relaxing along the Mediterranean. Beaches in Massachusetts are beautiful, but the water is cold and there aren't palm trees. Don't worry, I'm utilizing the umbrellas available and wearing LOTS of sunscreen. No burns yet!

So, I've been here for almost eight whole days. Not long in the grand scheme of things, I suppose, but sometimes it feels like forever. There are moments when I feel completely at home, and I've been so busy that I haven't really had time to wallow in homesickness or fear. I'm learning quickly the tools that I'll need to be a real person in a foreign country. I understand the currency, a few key Hebrew phrases, and I'm getting the hang of public transportation (mostly because I can no longer afford to take taxis, those guys really rip you off when they know you are American).
I want to take a second to explain the sherut for those of you who aren't aware of transit options in Israel- it's basically a minivan that runs along a semi-fixed route. A local sherut costs eight shekel (about $2.50, just divide by 3.3) which is only a little more expensive than a bus, and the way it was explained to me is that they are generally a little safer than taking a bus because they carry less people (not worth blowing up if cause you won't take as many lives). Sorry if that's scary to hear, Mom and Dad. Don't worry I'm being careful.
The next obstacles I have are getting a cell phone, bank account, and a job. I've been living for a week without a phone, and while it's nice to not be a slave to technology, it's also totally frustrating to not have things like GoogleMaps available to me in a totally new city. These obstacles are a perfect definition of one of my favorite Hebrew words- balagan. It means bascially 'chaotic' or 'messy'- getting a bank account and a phone have been a complete balagan. Remember this word, it has already become part of my vernacular, and I won't define it for you again... (smiley face). Today I woke up and tried to take care of some of these logistical obstacles, was faced with defeat at every turn, and decided instead to buy some cereal and spend the day hiding in my room, writing emails, and updating the blog while I watched American TV. I needed a little bit of rest and alone time to indulge my homesickness. Tomorrow I will pick myself up by the bootstraps and move on.
That's about it for now! Thanks for sticking with me through this lengthy update, I promise to try and write more frequently so you get all of this in doses. I think I may write a post dedicated solely to the delicious food here. I'd say I'm going to gain weight, but I'm walking and sweating far too much for that to happen. I hope. Also, if there actually is anyone following the blog, let me know! "Follow" me on blogger, or leave a comment, it's nice to get feedback. To my US friends and family- I miss you a lot. I love you all, and I eat up any email updates I get so keep 'em coming.
Goodnight everyone!