So today was our second study tour, and this week we learned about areas in and around Jerusalem that have held specific importance in the long history of the Arab-Israeli conflict. Our guide this week was Brig.
General (retired) Shalom Harari. He served in the IDF for twenty two years in intelligence (and still performs reserve duty). Now he serves as a senior research fellow at the Internationoal Institute for Counter-Terrorism at the IDC in Herzeliya, as well as a senior research fellow at the Middle East Media Research Institute (MEMRI). Also- he's totally hardcore. He speaks fluent Arabic (which he whipped out many-a-time today), had his own wireless mic and speaker (which he made someone carry for him all day), and gave us a unique perspective on how the Israeli military works and the realities Israel faces from the enemy of radical Islam.
Here is my photo homage to our teacher:
Our (very full) day began in Letrun- a point along the via Maris (way of the sea) that has been a strategic military location for thousands of years. Located along the natural geographical route from Tel Aviv (on the sea) to Jerusalem, Latrun is high up on a hill and whomever controlled that location was at an advantage to defending their control of the region. Today there is an Israeli military museum at this location- we walked through an old British fortress, wandered through rows of tanks and military equipment and viewed a memorial to the fallen Israeli soldiers from the many wars Israel has endured in her short modern life (which Shalom compared to the Vietnam Memorial in D.C. as far as the structure of the memorial).

While we were there an Israeli black hawk helicopter flew overhead from the direction of Tel Aviv towards Jerusalem. Shalom explained (from his experience) that based on what it was, and the time of day, that the helicopter was likely carrying the Minister of Defense or the Prime Minister. Awesome.
After the museum we drove on to Jerusalem. We spent the afternoon driving around different suburbs of Jerusalem located in areas which are either in dispute during peace negotiations between the Palestinians and Israelis, or have been the sites of periodic violence during times of upheaval in the area (areas to the south of Jerusalem which border the West Bank/Bethlehem). Shalom explained to us how issues of demography affect the conflict (i.e. a village or neighborhood that is home to Jewish residents but is close to Palestinian-inhabited areas and changes hands when borders are re-drawn during peace negotiations), we discussed the security fence that Israel built to protect civilian populations from terrorism launched out of neighboring Arab areas, and got to see first-hand just how close these quarters are.
We also learned about how holy sites in and around Jerusalem have effected the stability of the region- holy sites must be kept safe not only for the tourism industry that is so vital here, but also to protect the whole region from melting into a war between religions. After lunch we drove into Bethlehem to visit a holy site- the tomb of the matriarch Rachel. The last time I was in Israel in 2005 this area did not look so heavily fortified. Unfortunately, terrorism has forced Israel to step up security to protect tourism and the citizen population.
In this picture you can see the high cement walls with the stone walls of a the shrine:
Apparently, praying at Rachel's tomb is supposed to grant women fertility. I went in to see the shrine, but decided not pray for fertility. I'm not looking to start a family anytime soon.
We also stopped at the ruins of a church which had been built around a rock. Shalom explained that this rock was (according to legend) the place where the Virgin Mary stopped to rest on her way to Bethlehem. He also told us that religious lore states any woman who sits on this rock will allegedly "become like a virgin" again, no matter how many children she has given birth to. I'm not convinced, but some of my classmates gave it a shot.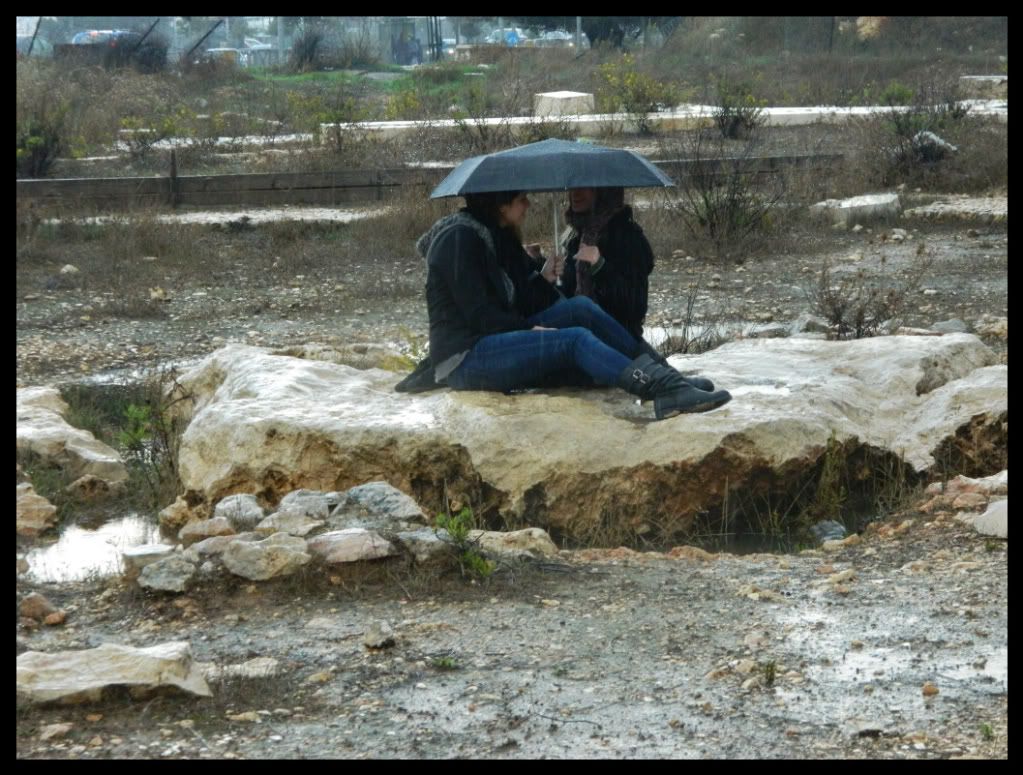 The day ended with Shalom taking us to the highest elevation point in Jerusalem- an old church turned mosque turned intelligence satellite location (also an archaeological dig). Some of his Arab friends provided tea and coffee (it was really cold today) and we enjoyed a spectacular view before driving home.